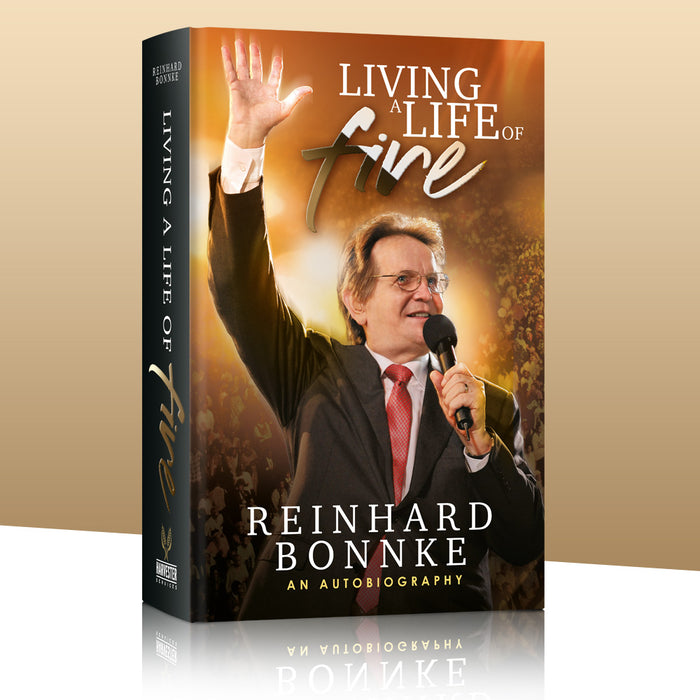 Living a Life of Fire, the new autobiography from Evangelist Reinhard Bonnke is an amazing life story of one of the world's most successful promoters of the Christian message. This book isn't just the facts about a preacher's life – it delivers a superlative read that will captivate Christians and non-Christians alike.
Reinhard Bonnke's life story is truly amazing. He often says he went from "zero to hero", which is an accurate portrayal of the youngest son of a preacher from a small village in Northern Germany. Today, the Bonnke name is known around the globe and is synonymous with gigantic meetings in Africa where not just thousands, but millions of people are won to Christ – in a single meeting. The most enjoyable parts of this book are the stories of God's intervention into the lives of men and women – some of the most extraordinary accounts published today.
These include the story of Richard, in prison and slated for the hangman's noose, but released and preaching the Gospel today. And the story of Reinhard and his team escaping by a breath, with only their lives intact, from the Muslim city of Kano, in Nigeria. And there is Teresia's journey from being a castaway divorcee, to a woman on fire for the Gospel. These are real stories about God reaching into lives when needed the most.
The "fire" in this title refers to Reinhard Bonnke's continual partnership with and reliance on the Holy Spirit throughout his life and ministry. This book is not a Pentecostal apologetic, but a challenge to Christians everywhere to embrace the same Biblical doctrine which Bonnke has employed with astonishing success.
Reinhard's life is a model for generations of preachers to come and his story provides inspiration for any Christian, anywhere, to do great things for God.
573 pages, Softcover